Miss You Matcha Collagen Tea - Matcha powder to boost skin
390 grams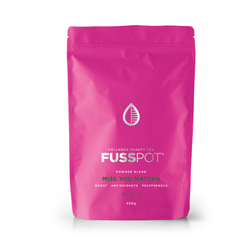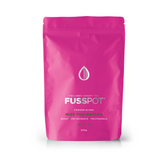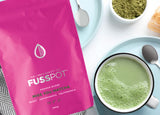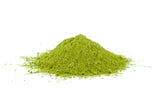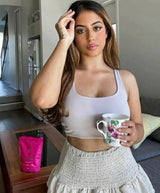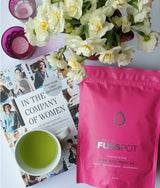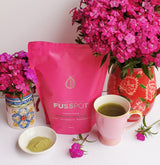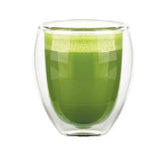 Miss You Matcha Collagen Tea - Matcha powder to boost skin
Highlight: Antioxidant Rich Collagen Matcha Tea
✔  Helps Support Skin Inflammation & Quality
✔  Anti-ageing to help fight Wrinkles
✔  Helps Detox and Weight Loss
Type: Organic Matcha Tea Powder  (Green Tea Powder)
Best for Any time - DOES contain natural caffeine
You won't beat the buzz and the super-boost you'll get from so much green goodness!!! Our Fusspot Miss-You-Matcha Collagen Tea infused with premium collagen is a great blend to boost your antioxidants whilst kicking off your day with a bang!! Yup - get your caffeine hit and your collagen boost in one! Our Miss-You-Matcha collagen tea blend is great for all you busy-bee's who want to give a little love to their skin whilst getting their turbo-charger revved up for the day ( or the night!)…. You'll get a glow just thinking about its' antioxidants which will work hard behind the scenes, hopefully reducing free radicals in your body along with all those catchetins zooming through your system, whilst the hydrolyzed collagen peptides are in there helping enhance your skin, hair and nails… now that's what we call buzzing! (And, a healthy glow from the inside!)  Gluten-free, dairy-free, no additional colours, flavours, or fillers – just pure organic matcha and collagen!!! Serving Suggestion: Perfect on its own.
Fusspot's organic Miss-You-Matcha collagen tea with the best collagen, is a super-uber collagen drink that'll boost your skin! It's full of anti-ageing antioxidants as well as a super-boosting catechin called EGCG (epigallocatechin gallate), a plant-based compound which assists to help fight wrinkles by increasing cell turnover, reduce inflammation and even skin tone. These antioxidants are also known for reducing acne and increasing skin elasticity, reducing oily skin and inflammation, and may even aid weight loss!. Matcha is a special, powerful form of green tea, derived from the same plant but is grown and prepared quite differently, as the leaves are picked younger, and are then stone-ground into a fine but densely nutritious bright green powder, so you end up consuming the whole leaf! So, this is the reason matcha may have even more benefits than regular green tea for your skin and your whole body!! What a collagen drink huh? And we just know you'll love that!
Is packed with antioxidants including the powerful EGCG (polyphenol plant compound)
Anti-ageing boosting
Aids skin tone, elasticity and inflammation
Detoxifies effectively and naturally.
Calms the mind and relaxes the body.
Enhances mood and aids in digestion and concentration.
Boosts metabolism and assists in burning calories.
Supports skin, hair and nails, joints, bones and tendons.
No strainer necessary, just add hot water and enjoy, or allow to cool and add icecubes for a refreshing collagen drink whilst you drink the benefits!!! Scoop one 13g serve, ( a heaped teaspoon), into 150-200ml of boiling water, or adjust serving amount to taste.

COUNTRY OF ORIGIN: Created, blended and packaged in Australia using 100% organic imported ingredients, with imported bovine hydrolyzed collagen peptides.

BEST BEFORE / EXPIRY DATE: see pack details or before 18 months from purchase date.

STORAGE: Close package immediately after use. Store in a cool, dry place, away from direct sunlight.

WARNING: NOT SUITABLE FOR CHILDREN AND PREGNANT WOMEN: SHOULD ONLY BE USED UNDER MEDICAL OR DIETETIC SUPERVISION Manufactured in a facility that also produces products containing Dairy, Egg, Soy, Tree Nuts, Lupin and Peanuts .
1 x 13g scoop per serve. 30 x 13g servings per pack. Consume 1-2 servings per day, depending on your daily dietary requirements, or as advised by a health care professional or dietician.
Bovine Hydrolyzed Collagen Peptides, Organic Matcha Tea Powder