ABOUT FUSSPOT COLLAGEN BEAUTY TEA
A new collagen drink, and a new way of consuming tea – as a beauty product! You betcha!!! So many beauty brands are about topical applications and don't consider what we consume and how it effects our bodies from the inside…. We wanted to develop a Collagen Beauty Tea that is affordable, beneficial, easy and a delicious daily collagen drink option, with organic and natural ingredients that provide powerful antioxidants and benefits, combined with the stimulatory effects of grass fed, bovine Types I and III Verisol bioactive collagen peptides to really give your 'beauty from within' a boost, so you can gain the benefits of collagen to support radiant skin, stronger hair, nails, joints, muscles, connective tissue and improved gut health! Enjoy!
Fusspot Collagen Beauty Teas are no ordinary tea! They are teas with benefits, and are the concept of an avid tea-lover in Australia, who loves drinking many cups of tea daily, and who discovered the amazing and powerful benefits from polyphenols and antioxidants found in tea that assist our bodies and especially our skin and complexion… From this, she felt she could create a new hybrid beauty tea and improve the daily 'cuppa'... combining teas' antioxidants with hydrolyzed collagen peptides to create a beauty product that is easily consumed.... and to help enhance and achieve beauty from the inside! After much research, development, focus groups and technical blending iterations, she created a powerful range of beauty teas developed with a Tea Master, that can assist further in enhancing our 'beauty from within' with even more rewards – by combining specific teas and tisanes aimed at improving our skin health and wellness, and then adding world-class hydrolyzed collagen peptides for a super-boost for improved skin hydration and elasticity, skin texture and plumpness, to help reduce fine lines and wrinkles as well as dry skin, and supporting thicker hair, stronger nails, and joint and tendon health! We all focus on what we put ON our skin, but not what we put INSIDE our bodies to really enhance our best selves!
Fusspot Collagen Beauty Tea was developed to support the concept of "beauty from within" An easy, affordable, beneficial and ready-to-drink everyday solution of organic teas packed with antioxidants and boosted with the benefits of hydrolyzed collagen peptides to support radiant, glowing skin, hair & nails from the inside!
After months researching the best formulations of natural and organic teas, herbs, botanicals, spices and plant-based ingredients that offer powerful benefits along with researching the worlds most trusted and scientifically proven Type I and III hydrolyzed collagen peptides, Fusspot Collagen Beauty Teas were born!
So, what's all the fuss about? Our teas are a 'tea with benefits" - they're formulated beauty teas packed with antioxidants and then infused with premium, concentrated hydrolyzed collagen peptides to support your skin and beauty from within. Actually, our teas are not only super-boosting and beneficial to drink - they're also good enough to eat!
Our environmentally friendly soilon, pyramid teabags are completely biodegradable and compostable, with non-bleached, non-toxic strings and recyclable tea-tags, helping to minimise the amount of microplastics and nanoplastics you drink, and are even great to use cold on your eyes to reduce puffiness!!! Our beauty teas even make great facial steams as well after you've drunk your collagen beauty tea and got your super-boost of antioxidants and collagen!

We've won the World Tea Awards for the "Best New Tea Startup Globally" in 2020-21 which is such an honor to be recognised and awarded this title for all of the hard work and passion in delivering Fusspot Collagen Beauty Teas for everyone to benefit from!! Plus we've won the Golden Leaf Awards in 2022, we won 2nd place in the Global Pure Beauty Awards in 2022 as well as The Green Edit's Best of Green Beauty Awards in 2022. and the Luxe List's Best of Health, Wellness & Beauty Brands Awards in 2022 and a Finalist in the Clean & Conscious Awards in 2022.
 
"I really wanted to create an amazing Collagen Beauty Tea range that packs some punch, and that gives a real boost to help enhance your beauty from within! Why shouldn't looking after your skin also be delicious, as well as a pleasure taking some time out just for YOU with a cuppa?" So get your daily collagen boost and caffeine fix to rejuvenate your skin, hair and nails! Drink the benefits, your skin will love you!
I hope you enjoy the range!
Cheers,
Sam xx
Developed by me, for women just like me, who are starting to see the signs of ageing! So, whether you're preventing, managing or maintaining your ageing process, start drinking the benefits of collagen tea - your skin will love you!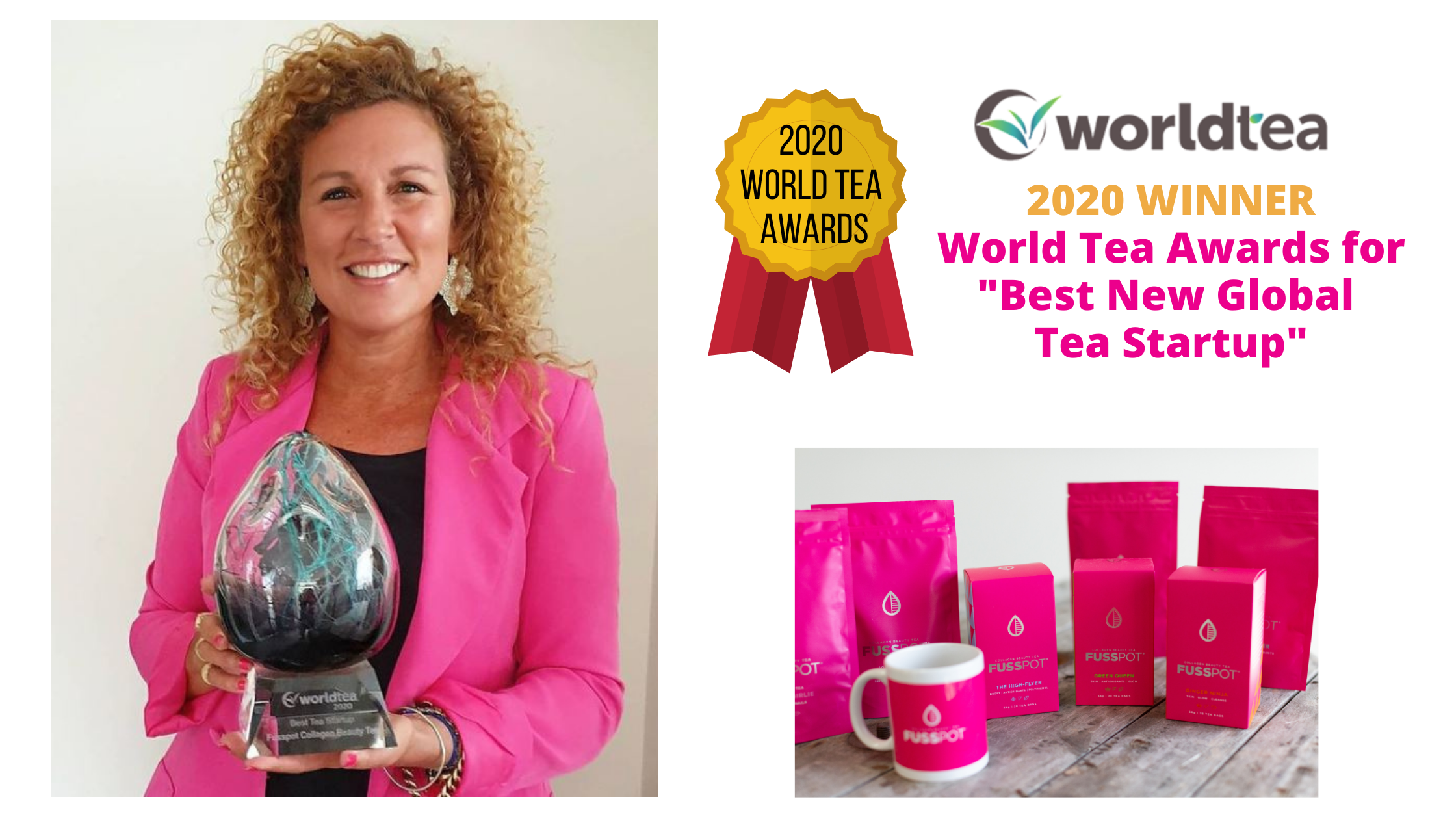 WHOLESALE ENQUIRIES: - Interested in wholesaling or stocking Fusspot Collagen Beauty Tea in your store or salon? Click HERE