Green Queen Collagen Tea - Green Teabags
56g Pack / 28 teabags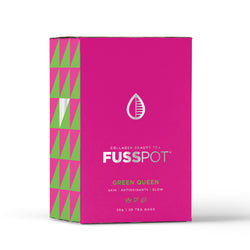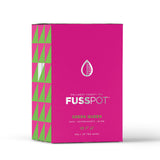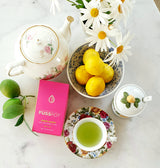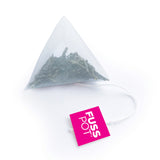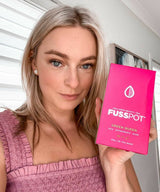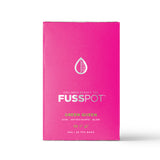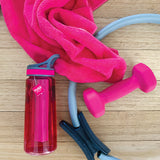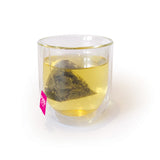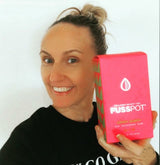 Green Queen Collagen Tea - Green Teabags
Highlight: Antioxidant Rich Collagen Green Tea Teabags
✔  Packed with Antioxidants for Skin Health
✔  Supports Anti-ageing
✔  Helps Metabolism and Burn Calories
Type: Collagen infused biodegradable Teabags
Ingredients: Pure Organic Green Sencha Tea infused with Collagen
Best for: Any time - DOES contain natural caffeine
This collagen tea blend is going to make your friends green with envy! Yes! You know why? Because Green Sencha Tea is packed full of antioxidants.... and since it's infused with the stimulatory effects of added collagen peptides - you're going to be buzzing and all 'glowy'!! Delicious and delicate, this very special Sencha Green Tea is infused with the best collagen and has many fabulous health benefits -  such as antioxidants which help detoxify your largest organ - your skin! And increasing energy! Phwooooar!!!  Blended with hydrolyzed collagen peptides to help enhance your skin texture, skin elasticity and firmness to help support more hydrated skin, as well as thicker hair, stronger nails and overall beauty from within, you can't go past this delicate and gentle green tea collagen drink fit for a Queen! Oh, that's a green queen by the way!

Serving Suggestion: Perfect on its own or with a drizzle of honey and a slice of lemon!
Green Queen with it's powerful Sencha Green Tea and collagen peptides has so many more health benefits, like reducing blood pressure (think less red patches on your skin!), balancing cholesterol levels, helping burn calories, (oooh, we love this!), protecting the immune system and also supports bones!  So enjoy the benefits of drinking our Green Queen collagen tea blend as Sencha tea provides a great amount of vitamin C and vitamin E so it'll also help your collagen absorption – yup!

NB – For our Fusspot Collagen Tea Teabags, we have tried to use as much eco-friendly and planet-friendly packaging where possible…. Using minimal micro-plastics – so we've used soilon fabric, pyramid teabags which are biodegradable and compostable, with non-toxic, non-bleached strings, and recyclable tags and box packaging!
Created, blended and packed in Australia with imported ingredients imported from China.
Sencha Green Tea - packed with powerful antioxidants, anti-ageing properties as well as anti-inflammatory properties, Sencha assists in boosting the immune system and could also help with weight-loss!
Bovine hydrolyzed Collagen Peptides – improves the body's skin, hair, nails, joints, elasticity.
Add 1 collagen tea teabag of Fusspot's Green Queen Collagen Tea into a cup (250ml) of freshly boiled water for 2-5 minutes pending on the strength you prefer.  Remove teabag and enjoy warm/hot or chill over ice!

Drink 1 to 3 cups any time, but if you are susceptible to caffeine, try not to drink 3 to 4 hours before bed.

FUN BONUS: You can cool the teabags down in the fridge and place them on your eyes as a great cooling and hydrating eye-mask at night before bed… the cold green tea teabags will do your skin wonders!!!

100% organically grown and ethically sourced tea and herb ingredients where possible.

Warning: -  Made on equipment that may also process nuts and gluten.  Do not use if pregnant or nursing without professional health care advice. 

Go Aussie Go! - Created, blended and packed in Australia imported ingredients from China.

Storage: Store in a cool, dry place.
Sencha Green Tea infused with Collagen: Made with imported, certified organic Sencha green tea imported from China and blended in Australia with hydrolyzed collagen peptides (sourced from grass-fed, pasture-raised bovine hide). This tea naturally contains caffeine.