Celebrity Skin Collagen Tea - Skin-saving herbal loose leaf
50g Pack (approx. 30 serves)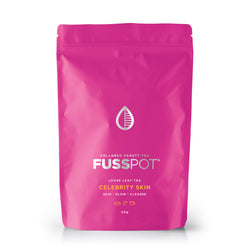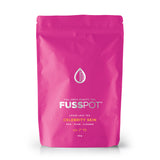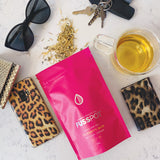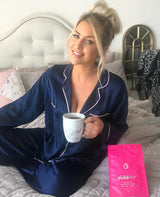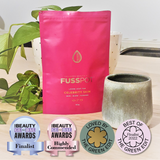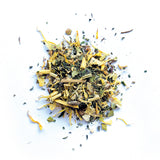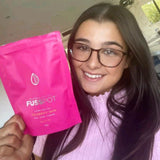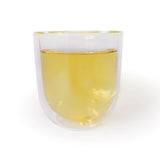 Celebrity Skin Collagen Tea - Skin-saving herbal loose leaf
Highlight: Skin-Saving Complexion Collagen Tea
✔  Skin-boosting & supports Skin Health and Acne
✔  Repair and Rejuvenate Smoother Skin
✔  Helps Hair Growth & Hair Health
Type: Organic Herbal Loose Leaf Collagen Tea
Ingredients: A blend of Burdock root, Lemon Myrtle leaf, Alfalfa, Peppermint, Liquorice root, Nettle leaf, Milk Thistle, Calendula petals, and Orange peel with hydrolyzed collagen peptides
Best: Anytime - Naturally caffeine-free
Love how your fav celebrities have glowing smooth skin? Well, this is our award-winning collagen tea that will help support your complexion, skin goals and concerns!!!  This organic beauty tea was developed to support firmer, supple and smoother skin, and is packed with organic ingredients, herbs, botanicals and tisanes, along with Type I and Type III hydrolyzed collagen peptides to support radiant skin, hair and nails! If you're after a little assistance in repairing and rejuvenating your skin from the inside out, and want to nourish radiant, glowing skin with firmer skin texture, skin elasticity and skin hydration, then this collagen tea blend has all the natural, organic ingredients that will support your quest to reduce wrinkles and fight the signs of ageing! The best collagen drink that's been specifically formulated to promote 'beauty from within' to enhance your skin health, this collagen tea blend will support improved skin firmness and skin structure as well as skin quality. Smile, (don't squint) & enjoy!
Here's a little fact we thought you'd love - Calendula tea is extracted from Marigold flowers, and is often used as a complementary or alternative treatment in beauty and skincare products. Calendula has been added to our Celebrity Skin Collagen Tea because it's known to have antifungal, anti-inflammatory, and antibacterial properties that may assist in healing skin, healing wounds, soothing eczema, and relieving skin rashes, pigmentation, rosacea and other concerns. This Collagen Tea blend is the best collagen drink as it also has Nettle Leaf which is also a powerful herb to assist with skin health – combined with Type I and Type III hydrolyzed collagen peptides to boost skin, hair and nails - it'll be the best collagen drink you'll benefit from, and your skin will love this blend!!!

Created, blended and packed in Australia with local and imported ingredients, which are 100% organic where possible
Burdock root– blood purification, help with acne and eczema and skin quality
Lemon myrtle– cleansing properties targeted at acne and improved skin
Alfalfa– detoxification of the urinary tract, liver and blood cleansing, digestion
Peppermint– skin health
Liquorice root–hair growth, reduction of dandruff and unpleasant body odours
Nettle leaf– skin health, blood sugar levels, and blood pressure
Milk thistle– blood pressure and cholesterol
Calendula petals– natural antioxidant and assists skin healing
Orange peel– hair health and breath cleansing (loaded with Vitamin C)
Bovine hydrolyzed Collagen Peptdes – helps improve the body's skin, hair, nails, joints, skin tone and elasticity.
SHAKE ME TO TAKE ME:  Shake the pouch to distribute the collagen tea and all the ingredients evenly.  Add 1 heaped teaspoon (approx. 1.5 grams) of Fusspot's loose leaf Celebrity Skin Collagen Tea to a strainer/infuser, then place into a cup (250ml) of freshly boiled water for 2-5 minutes pending on the strength you prefer.  Remove strainer and enjoy warm, or even chilled over ice.

This is a herbal collagen tea: A Great morning, daytime or evening collagen drink that contains no caffeine.  Drink 2 cups any time of day, and particularly at night approx 2 hours before bed.
BONUS: Celebrity Skin Collagen Tea may also be used as a herbal facial steam bath, by adding one teaspoon to a bowl of steaming hot water. (Be mindful of the hot water not to burn your face) – Grab a towel and steam your face for 5 to 10 minutes. Caution needed. Rinse and pat dry.
100% organically grown and ethically sourced tea and herb ingredients where possible.

Warning: -  Made on equipment that may also process nuts and gluten.  Do not use if pregnant or nursing without professional health care advice.

Go Aussie Go! - Created, blended and packaged in Australia using local and imported ingredients.

Storage: Store in a cool, dry place.
1.5grams /teaspoon - approx. 30 serves per pack
A blend of Burdock root, Lemon Myrtle leaf, Alfalfa, Peppermint, Liquorice root, Nettle leaf, Milk Thistle, Calendula petals, and Orange peel with hydrolyzed collagen peptides (sourced from grass-fed, pasture-raised bovine hide).