Glow Junkie Collagen Tea - Skin-boosting loose leaf
60g Pack ( approx. 30 serves)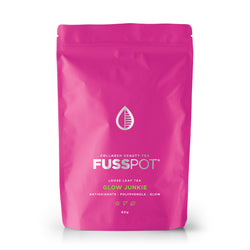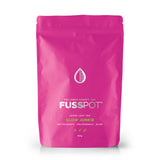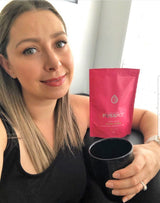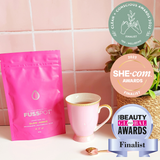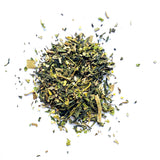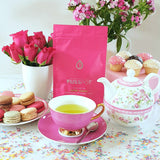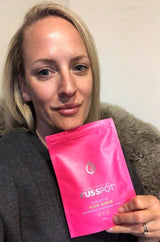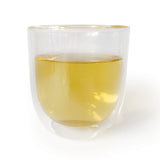 Glow Junkie Collagen Tea - Skin-boosting loose leaf
Highlight: Super Skin-Boosting Collagen Tea 
✔  Boosts Skin Radiance & Reactivate Skin Cells
✔  Great for Hair Growth
✔  Supports Anti-ageing
✔  Relieves Dry Skin
Type: Loose Leaf Collagen Tea
Ingredients: Sencha Green tea, Australian organic hulled hemp seed, organic olive leaf, organic paw paw leaf and organic spearmint with hydrolyzed collagen peptides
Best for: Any time organic green blended collagen tea. (Green Sencha Tea DOES naturally contain caffeine)
Nourish your inner glow with an organic Collagen Tea for Glowing Skin that is packed with polyphenols, antioxidants and collagen peptides - specifically formulated to give your body a boost from the inside! Our award-wining blend will give you your daily caffeine hit, collagen boost and antioxidant fix! Developed to help support and improve your skin elasticity and skin texture, and to maintain your collagen levels and restore your skin health to gain that healthy glow from the inside! This is a super-uber healthy collagen tea that your body will just love and benefit from - packed with organic ingredients and antioxidants to assist in fighting free-radicals and cleanse your system! A beautiful clean taste, and a light flavour, this collagen tea blend has Type I and Type III hydrolyzed collagen peptides to give you more bang for your buck in every sip, helping to enhance your beauty from within and build up your collagen so your skin looks radiant and supple and help fight the signs of ageing, as well as the signs of dull, dry, flaky skin. You'll love drinking this collagen tea day or night! Delish!
Our award-winning collagen tea formulation has been blended to really impact your body from the inside - with tailored ingredients to give you a collagen boost, energize you, assist with digestion, detoxify your system and give you an antioxidant boost to help break down free radicals and therefore help prevent skin ageing and reduce wrinkles along with many other health benefits. Packed with polyphenols to help protect the body's soft tissue against oxidative stresses, and boosted with Type I and Type III hydrolyzed collagen peptides, Green Sencha tea (which is packed full of antioxidants), and paw paw leaf (which also helps treat skin problems, supports digestion and promote hair growth), this blend supports thicker hair, stronger nails, joints, ligaments, tendons and muscle repair, as well as improved skin elasticity and firmness – you've got yourself a real winner with this blend - the best daily collagen drink for skin benefits! So enjoy this collagen beauty tea blend and get glowing!

Created, blended and packed in Australia with local and imported ingredients, which are 100% organic where possible
Sencha Green Tea – High in protective antioxidants,  reduces cellular free radical damage, helps to reactivate dying and damaged cells and reduces the appearance of wrinkles and slows signs of aging
Hulled Hemp Seed – relieves and assists with dry skin, overall heart health, good skin health
Olive Leaf – reduces skin inflammation, boosts immunity, lowers blood pressure, supports weight loss
Paw Paw Leaf – rich content of vitamin C and A, boosts skin health and radiant skin, and boosts hair growth
Spearmint - natural antioxidant and prevents the production of excess sebum on the skin
Bovine hydrolyzed Collagen peptides – helps improve the body's skin, hair, nails, joints, bones, skin tone and elasticity.
SHAKE ME TO TAKE ME:  Shake the pouch to distribute the collagen tea and all the ingredients evenly.  Add 1 heaped teaspoon (approx. 1.75 grams) of Fusspot's loose leaf Glow Junkie Collagen Tea to a strainer/infuser, then place into a cup (250ml) of freshly boiled water for 2-5 minutes pending on the strength you prefer.  Remove strainer and enjoy warm, or even chilled over ice.

This is a collagen infused Green tea and therefore DOES have caffeine in it: A Great any time collagen drink that contains some caffeine.  Drink 1 to 3 cups any time as required.

100% organically grown and ethically sourced tea and herb ingredients where possible.

Warning: -  Made on equipment that may also process nuts and gluten.  Do not use if pregnant or nursing without professional health care advice. 

Go Aussie Go! - Created, blended and packaged in Australia using local and imported ingredients.

Storage: Store in a cool, dry place.
1.75grams /teaspoon - approx. 30 serves per pack
Organic Sencha Green tea, Australian organic hulled hemp seed, organic olive leaf, organic paw paw leaf and organic spearmint with hydrolyzed collagen peptides (sourced from grass-fed, pasture-raised bovine hide).