Chai So High Collagen Tea - Chai powder to stimulate skin
390g pack (approx 30 serves)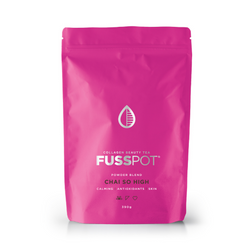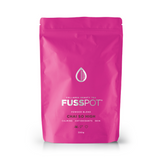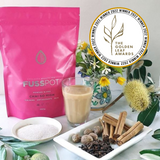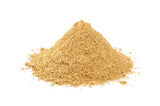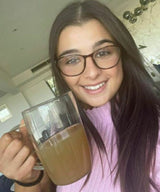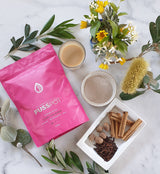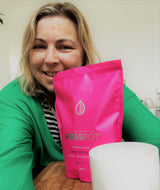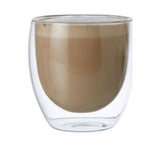 Chai So High Collagen Tea - Chai powder to stimulate skin
Highlight: Skin-Stimulating Collagen Chai Tea
✔  Stimulates Circulation and Skin Health
✔  Soothing and Warming for Digestion & Gut
✔  No artificial flavours, colours, additives
Type: Collagen Chai Powder Tea  (Caffeine-free)

Best for Any time of day -Caffeine-free

Chai-ching!!! As this Fusspot Collagen Beauty Tea with hydrolyzed collagen peptides suggests – it's really got a cha-ching and a va-voom about it - a spicy, fragrant and incredibly tasty mix of organic cardamom, cinnamon, cloves all blended together with hydrolyzed collagen peptides to create the best collagen drink and to give your skin and your body a big whopping ol' boost! It's got no fillers, artificial sweeteners, colours, flavours or additives - just beautiful warming chai!   It's not only great to invigorate your circulation, (which should in turn improve your skin's complexion), but it's also a pure energy booster - as this collagen drink is a mix of spices that facilitates energy production within the body as a natural stimulant!! Our Chai So High collagen tea chai blend has a slightly exotic taste which will warm and delight all you busy little Fusspots out there rushing around, who want something that tastes damn good, but is oh so easy and quick to prepare, scoop in a teaspoon of the powder and pour in your hot water!! Easy right? With the added benefits of hydrolyzed collagen peptides for a pure collagen skincare boost to drive your beauty from within – your hair, skin and nails will love you if you gulp a cup of this collagen tea chai blend daily! Gluten-free, dairy-free, no flavours, no fillers and most importantly no artificial sweeteners  – just pure organic fabulous chai spices and collagen peptides! Yup – you know you want to give it a go!
Fusspot's organic Chai So High collagen tea with hydrolyzed collagen peptides, is a spicy go-getter from way back!!! It's delicious, slightly spicy ( did we already say spicy?), and is so action-packed full of goodness that it's hard to believe something this tasty does so much for your collagen skincare and health! If you're looking to boost your collagen skincare, your energy and build a healthy immune system, drinking a few cups of chai collagen tea every day can help you achieve your goals. Cardamom has been a staple of Tibetan medicine for centuries and it contains high doses of vitamin C and other nutrients that keep your immune system healthy!! So drinking our Chai So High collagen tea assists in improving your circulation and immune systems, and combining this with the added benefits of hydrolyzed collagen peptides, which assists in improving your hair, nails, skin tone and elasticity – your skin will be smoother in no time and your body will be humming!!!
Increased circulation stimulates collagen production and smoother skin
Increased circulation also provides an instant glow.
Spices help to reduce inflammation.
Helps regulate digestive systems
Helps support your immune system
No strainer necessary, stack a teaspoon into your cup, just add hot water and enjoy, or you can add either milk or honey to taste whilst you drink the collagen infused benefits!!!  Scoop one 13g serve, ( a heaped teaspoon), into 150-200ml of boiling water, or adjust serving amount to taste.

COUNTRY OF ORIGIN:  Created, blended and packaged in Australia using imported ingredients which are 100% organic, with imported bovine hydrolyzed collagen peptides.

BEST BEFORE / EXPIRY DATE: see pack details or before 18 months from purchase date.

STORAGE: Close package immediately after use. Store in a cool, dry place, away from direct sunlight.

WARNING: NOT SUITABLE FOR CHILDREN AND PREGNANT WOMEN: SHOULD ONLY BE USED UNDER MEDICAL OR DIETETIC SUPERVISION Manufactured in a facility that also produces products containing Dairy, Egg, Soy, Tree Nuts, Lupin and Peanuts.
30 x 13g servings per pack. Consume 2 servings per day, depending on your daily dietary requirements, or as advised by a health care professional or dietician.
Bovine Hydrolyzed Collagen Peptides, Spice Blend  - Ground Cinnamon, Ground Ginger, Ground Cardamom, Turmeric Powder, Ground Cloves.