The Headliner Collagen Tea - Antioxidant rich black loose leaf tea
70g Pack (approx. 30 serves)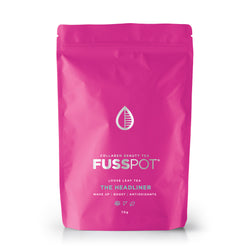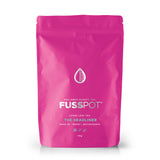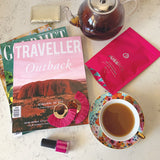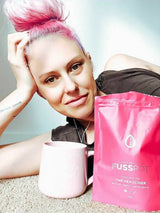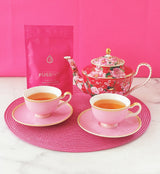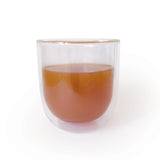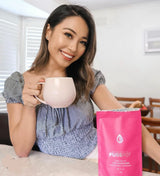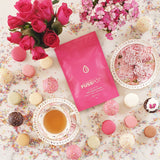 The Headliner Collagen Tea - Antioxidant rich black loose leaf tea
Highlight: Antioxidant Rich Energy Boosting Collagen Black Tea
✔  Antioxidant Rich
✔  Supports Skin, Hair, Nails, Gut Health
✔  Help Slow the Signs of Ageing
Type: Loose Leaf Collagen Black Tea
Ingredients: Ceylon black tea, Assam Black tea, White silver needle (White Tea) and Rose Petals with hydrolyzed collagen peptides

Best for: ANY TIME - DOES contain natural caffeine
This Collagen Tea is a black tea mix and is great for your caffeine-hit and collagen boost, and will recharge your mornings, or any time of day! It's a refreshing full-bodied Australian Breakfast Tea and combines various organic black teas with white tea ( silver needle) and rose petals to give a full-bodied taste that will give you your caffeine boost and a great buzz as well as all of your antioxidants and collagen boost! Blended with hydrolyzed collagen peptides to help enhance your skin, hair and nails and overall beauty from within, you can't go past this everyday blend. Add milk, sugar or lemon, or drink on it's own, if you love your daily black tea, and looking for the best collagen drink to kick off your day -  then this is the one to choose with collagen to boost your skin, hair, nails and body!
This collagen tea formulation has been blended to really impact your system, boost energy, help treat digestion, and detoxify your system. Black tea is renowned for its' antioxidant properties ( think flavonoids), as well as boosting heart health, and promoting so many other benefits! A natural caffeine-fix, black tea also contains catechins (the powerful antioxidants in tea that fight cancer-causing cells and help prevent heart disease), tannins (the naturally occurring chemical compounds that give black tea their astringency), guanine (a natural stimulant) and xanthine (another natural stimulant, similar to caffeine). It's these antioxidants and polyphenols which are found in black tea that are associated with a number of health benefits! So, the complex flavonoids found in black tea are actually polyphenols that aid in disease prevention.  The flavonoid polyphenols in black tea known as thearubigin and theaflavin act as especially powerful antioxidants* and interestingly, these two flavonoids are more concentrated in black tea than in green tea. So drink up, and enjoy drinking the benefits of this collagen tea! Your skin will love you!

Created, blended and packed in Australia with local and imported ingredients, which are 100% organic where possible
A blend of Ceylon and Assam Black Teas, premium White Tea – includes a modest amount of caffeine (about a third of a regular cup of coffee), this tea contains natural antioxidants which are traditionally linked to slowing the signs of ageing by reducing the impact of free radicals in the body.
Rose petals – which are great antioxidants
Bovine hydrolyzed Collagen Peptides – helps improve the body's skin, hair, nails, joints, skin tone and elasticity.
This tea is free from: GMO, Soy, Dairy, Eggs, Nuts, Preservatives, Artificial Colours, Flavours and Sweeteners
SHAKE ME TO TAKE ME:  Shake the pouch to distribute the collagen tea and all the ingredients evenly.  Add 1 heaped teaspoon (approx. 2 grams) of Fusspot's loose leaf The Headliner Collagen Tea to a strainer/infuser, then place into a cup (250ml) of freshly boiled water for 2-5 minutes pending on the strength you prefer.  Remove strainer and enjoy warm/hot.

This is a black collagen tea blend and does have caffeine: Drink 1 to 3 cups any time, or as required.

100% organically grown and ethically sourced tea and herb ingredients where possible.

Warning: -  Made on equipment that may also process nuts and gluten.  Do not use if pregnant or nursing without professional health care advice. 

Go Aussie Go! - Created, blended and packaged in Australia using local and imported ingredients.

Storage: Store in a cool, dry place.
2 grams / teaspoon - approx. 30 serves per pack
Ceylon black tea, Assam Black tea, white silver needle (White tea) and Rose petals with hydrolyzed collagen peptides (sourced from grass-fed, pasture-raised bovine hide).