Twirlie-Girlie Collagen Tea - Sweet Pink herbal loose leaf
70g pack (approx. 30 serves)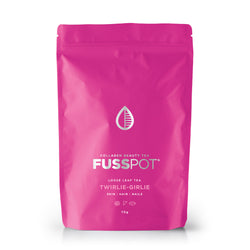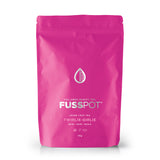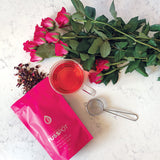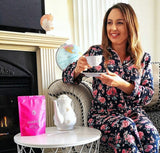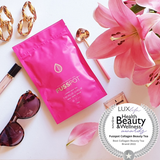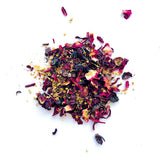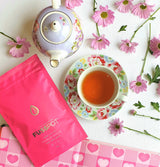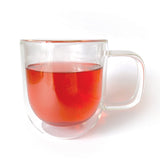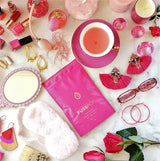 Twirlie-Girlie Collagen Tea - Sweet Pink herbal loose leaf
Highlight: Pink & Sweet Skin-boosting Collagen Tea.
✔  Packed with Vitamins & Collagen
✔  Supports Healthy Immune System
✔  Great for Acne and Anti-inflammatory
Type: Organic Herbal Loose Leaf Collagen Tea
Ingredients: Hibiscus, Rosehip Shells, Elder Flower, Rose Petals with hydrolyzed collagen
Best for: Evening or any time - Naturally caffeine-free
She's fun, she's pink and she's fabulous!!! The best collagen drink in pink!!! If you're after healthy, glowing skin, and want a pink collagen tea packed with natural antioxidants and botanicals, then this organic collagen tea blend is for you! A girlie, pink and slightly sweet tea you'll enjoy instead of a chocolate bar, (or something else naughty), try this for a little treat! The benefits of this collagen tea blend with the hydrolyzed collagen peptides will assist you with smoother, enhanced skin hydration, improved skin structure and skin quality. You'd never think something so sweet could be so good (and healthy!) Lovelyyyyy!!!
So our Twirlie-Girlie collagen tea blend is pretty special as it includes Hibiscus petals, which our skin loves! Hibiscus helps with age spots, and assists with an all round fresher, younger, smoother looking complexion. The natural acids present in Hibiscus flowers help to purify our skin by breaking down dead skin cells and increasing cell turnover, they can even help to control acne breakout. Wow!! Hibiscus flowers are rich in amino acids, Vitamin A, Vitamin C and alpha Hydroxyl acids along with other nutrients which are extremely beneficial for our skin!! Who knew??? Add this to the other formulated ingredients as well as our premium hydrolyzed collagen peptides to enhance your beauty from within, and you'll really enjoy this beauty collagen tea blend - we're sure your skin will LOVE it!

Created, blended and packed in Australia with local and imported ingredients, which are 100% organic where possible
Hibiscus – Assists with natural collagen production, cleanses the liver to promote better skin/health, high in vitamin C, and a good source of vitamins A, B1, B2, zinc, and iron, natural alpha-hydroxy acids and omega-3 fatty acids which are essential for maintaining healthy skin, hair, and nails
Rosehip Shells – rich in antioxidants, supports healthy immune system, reduces skin inflammation, helps fight anti-aging
ElderFlower – has a multitude of antibacterial, anti-inflammatory, and antioxidant properties for overall health.
Rose Petals - blood purification, help with acne and eczema and skin quality
Bovine hydrolyzed Collagen Peptides – helps improve the body's skin, hair, nails, joints, tendons, bones, skin tone and elasticity.
SHAKE ME TO TAKE ME: Shake the pouch to distribute the collagen tea and all the ingredients evenly. Add 1 heaped teaspoon (approx. 2 grams) of Fusspot's loose leaf Twirlie-Girlie Collagen Tea to a strainer/infuser, then place into a cup (250ml) of freshly boiled water for 2-5 minutes pending on the strength you prefer. Remove strainer and enjoy warm, or even chilled over ice.

This is a herbal collagen tea: A Great morning, daytime or evening drink that contains no caffeine. Drink 1 cup any time of day, and particularly at night approx 1 hour before bed.

100% organically grown and ethically sourced tea and herb ingredients where possible.

Warning: - Made on equipment that may also process nuts and gluten. Do not use if pregnant or nursing without professional health care advice.
Go Aussie Go! - Created, blended and packaged in Australia using local and imported ingredients. Storage: Store in a cool, dry place.
2 grams / teaspoon - approx. 30 serves per pack
Hibiscus, Rosehip Shells, Elder Flower, Rose Petals with hydrolyzed collagen peptides (sourced from grass-fed, pasture-raised bovine hide).